ABOUT US - The Hipcats are musicians with years of experience but who bring an exciting and contemporary feel to the classic music of jazz and swing - making it as fresh today as it was when it was first performed by the great artists of the past. We are also huge fans of classic soul, funk and groove which we can mix into our sets to suit the atmosphere.
EXPERIENCE - We have all worked with other great musicians or performed at major events. Top experiences have included learning directly from Oscar Peterson and Ella Fitzgerald to playing with Jamie Cullum, Joss Stone, Peter Gabriel and Lana Del Rey.
MUSIC - The band are jazz and swing specialists but also love playing the great music that has flowed from this which includes latin grooves, funk and soul from the likes of Stevie Wonder and Mark Ronson. Check out the song list for favourite tunes or get in touch to find out more.
EVENTS - Members of the band have played at events as diverse as The American Museum's 50th birthday celebrations, Jazz Festivals, Cheltenham Races and Glastonbury Festival. Other clients have included the BBC, Harvey Nichols, Hotel du Vin, HSBC, Audi and many more. We are happy at all events, large or small.
BAND LEADER - Nick, has been successfully running the band for over ten years and all of his colleagues are also great friends. We are mostly based around Bristol and Oxford between the M4, M5 and M40. There are always at least two of each instrument available with the aim that we can always put the best line-up together for your event, sometimes even at relatively short notice. As well as being lead vocalist in the band, Nick is also a guitarist and percussionist.
Choose a fabulous band for your event!
Are you looking for background style and great atmosphere or head-nodding approval and foot-tapping fun or uptempo swing and dancefloor grooviness? Popular line-ups include:
Solo piano - jazz, romantic and classical
Lounge style duo -vocals & piano (instrumental duos available)
Classic trio - vocals, piano & double-bass (or swap for jazz guitar or saxophone or trumpet)
Acoustic line-up (no electricity) - can include guitar, double bass, saxophone, trumpet, vocals, percussion
Quartets - mellow, instrumental or upbeat - choose your favourite line-up from -
vocals, piano, double bass, drums, saxophone, trumpet, guitar
Five-piece with four Hipcats -vocals/guitar, piano, double bass and drums
Classic five-piece - vocals, piano, double bass, drums, with guitar, saxophone or trumpet
Big six-piece - vocals/guitar, piano, double bass, drums, and two horn players
Full seven-piece - vocals, piano, double bass, drums, guitar and two horn players
The Hipcats is a Registered Trade Mark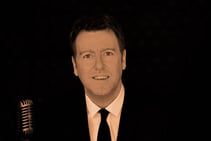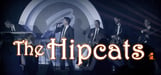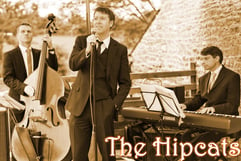 The Hipcats - jazz band, swing band and so much more. Choose your ideal line-up of musicians.