Prices include amazing musicians, helpful advice, professional service, top quality equipment and great music!
We will chat with you about precisely what you need so that we can ensure that we give you the best price that we can - the number of musicians, time of year, day of the week, distance, time at the venue, amount of equipment required, etc. We have played daytime events in gardens for less than £500 but large events in London for £2500. We do not charge VAT and there are no agency fees.
Typically we perform two sets of 45 to 60 minutes each with a break of 20 to 60 minutes but we are very happy to be flexible with these arrangements. You may want some short music earlier on the day or evening, or you may want one longer set, or you may want different sized bands at different times or in different locations. We have done it all and we are happy to accommodate! You might also want to discuss disco options (Spotify or DJ), equipment hire or extra lighting in the evening.
Often we find that clients may have an approximate budget - this is useful as we can try to tailor the line-up and the timings to suit as best we can. Nick, the Band Leader, is always happy to chat so drop him an email or phone call now for a friendly chat.
SPECIAL OFFER
SAVE10 - 10% off the quoted price for events in January, February, March and November or anything booked more than six months in advance.
PAYMENT TERMS
Once you and Nick have had a good chat about what you need, we will send you a Booking Agreement which confirms all the details. At this point, once you are happy, we will take a confirmation deposit.
FRIENDLY, PROFESSIONAL, RELIABLE
We have NEVER had to cancel an event in 12 years. The two occasions when a band member was ill, we found a suitable replacement. We try to plan as best we can for these bits of bad luck and thankfully our planning has worked successfully so far! You can rely on our experience, professionalism and direct contact with Nick to ensure that everything goes smoothly. We would LOVE to join you for your event.
The international company - SelectScience - August 2023 - SS Great Britain, Bristol.
"I just wanted to say a huge thank you for your performance at SelectScience's 25th anniversary party last week. You were exactly what we wanted.
Everything came together on the day and I think we can safely say that between us we exceeded the WOW level that was asked for, so thank you for helping make that happen."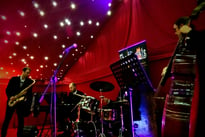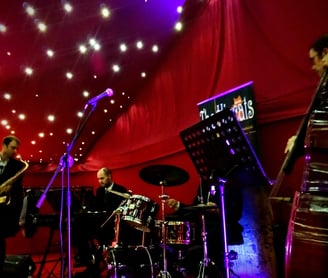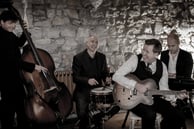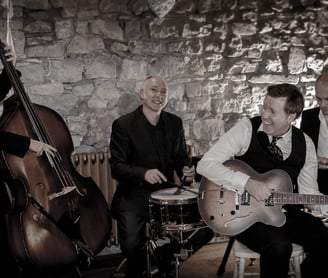 Jazz band & swing band hire - cost & prices - special offers - The Hipcats.