If you are looking for that perfect band who will treat your wedding day with care, focus, a friendly face and fantastic music then we are the band for you.
It is such an important day and we understand the importance of it all going perfectly. We have great experience in terms of what works well and we are also happy to offer advice on any aspect of the wedding day planning so that you have nothing to worry about. It will be FABULOUS!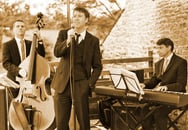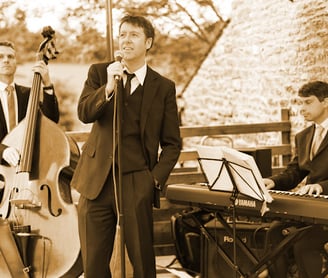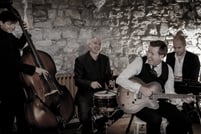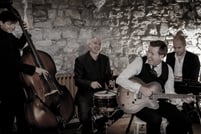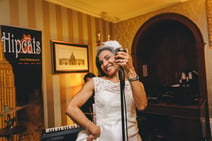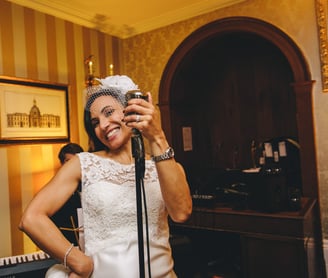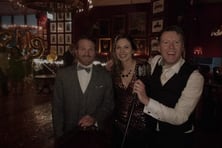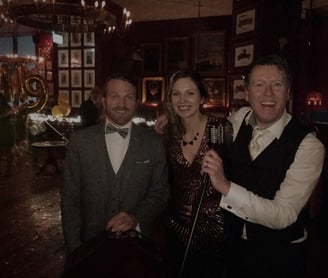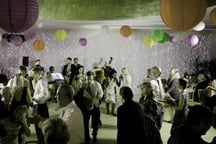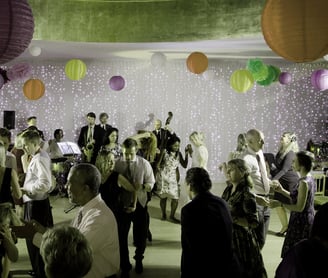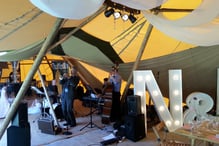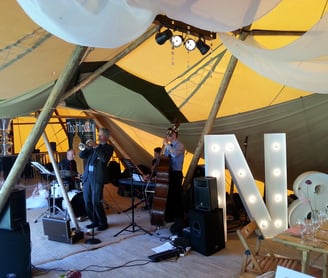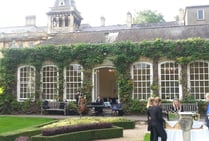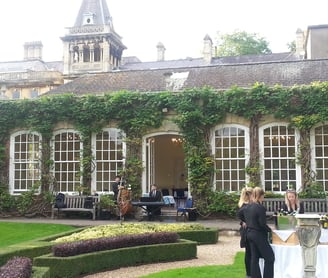 The Hipcats at your wedding
We can help you with music pre-ceremony, music during or after the ceremony, drinks reception, during dinner and as part of the evening party.
We can offer flexible line-ups of musicians to suit the style you want, the space you have and any particular requests you have during the day.
We will give you our full attention from the day you first contact us through to the week of the wedding and on the day itself so that the music is just right for you.
We can play indoors or outdoors, we have line-ups that do not require electricity (for those hard to reach places!), we have options for extra lighting, we have options for you playing recorded music through our system when the band isn't playing and we can even arrange the disco too! Everything you need for perfect music on your big day.
And what's more we were given a FIVE STAR rating from the wedding website Hitched.
We love a good wedding!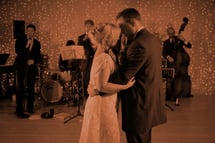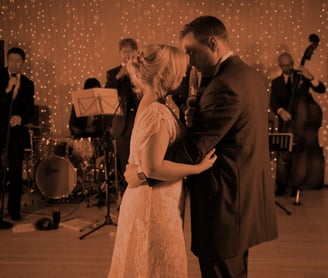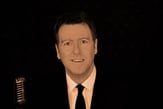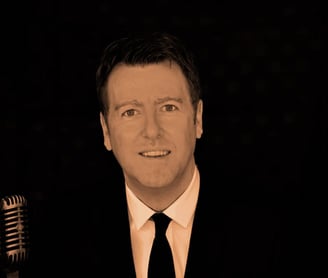 Wonderful comments from wonderful weddings
"FABULOUS! Hi Nick. Yes I am shouting fabulous. We all loved the set you played for Lauren and Ralph at Matara. Superbly soulful, magically musical - it got people bobbing, swinging, singing and on their feet. Great stuff. Thank you." Jonathan & Alison (Mother and Father of the bride) - Matara, Gloucestershire
"You guys were great, just what we wanted! Thank you so much for everything." Lara (the bride) - Clevedon Hall
"Hi Nick. So sorry I didn't get to speak to you much at the wedding - was all a bit crazy! We had a great time and everyone really raved about you guys! Think it went down a treat! So just wanted to say thanks you very much and I'm sure we will see you again!" Staci (the bride) - Orchardleigh House, Wiltshire
Fabulous venues
Just a small selection of some of the many wonderful venues where we love playing:
Avon Gorge Hotel - Bath Spa Hotel - Berwick Lodge - Bristol Harbour Hotel - Bristol Museum - Clearwell Castle - Cripps Barn - Blenheim Palace - Bowood Hotel - De Vere Wokefield Estate - Great Tythe Barn - Grittleton House - Guyers House - Hotel du Vin - Hyde House - Kingscote Barn - Lainston House - Le Manoir - Manor by the Lake - Matara Centre - Midelney Manor - Oakley Hall - Old Down Estate - Orchardleigh Estate - Oxford University - Priston Mill - Stanton House Hotel - St Audries Park - Ston Easton Park - St Tewdrics House - Thornbury Castle - Tortworth Court - Wick Farm
First Dance
Such a wonderful moment. Have a look at our song list and see if there is one you would like or get in touch to ask about a specific tune. We could perform it or play a recording through our system. We can also adapt any song to the speed and length that suits you, plus we can encourage guests to join you if that is something you would prefer.
We would love to be part of your big day.
"Hi. I'm Nick the Band Leader. Give me a call or drop me an email, day or evening!"
The Hipcats - recommended wedding band for hire - jazz, swing & so much more!